Logo
50th Anniversary logo available upon request. Email: blackhistory@duke.edu
Photos available for download
You can download all full-size images at once. Or you can view the thumbnails below and download images separately.
Click on the thumbnails to view the full image.
April 21, 2012: Gene Kendall, Wilhelmina Reuben-Cooke and Nathaniel "Nat" White Jr., the three surviving members of the first five undergraduate students to integrate Duke, attend their class reunion.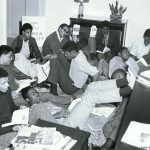 Allen Building Study-In: On Nov. 13, 1967, African-American students staged a sit-in in front of Duke President Douglas Knight's office to protest the use of segregated facilities by student groups. Later that week, the administration prohibited student groups from using segregated facilities.
Allen Building Takeover: On Feb. 13, 1969, African-American students barricaded themselves inside the Allen building, the university's headquarters, to force the administration to make the campus friendlier to black students. Sixty students occupied the Allen Building for eight hours before leaving peacefully. In the confusion that occurred after the students left, police released tear gas into the Academic Quad.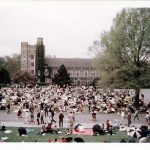 Following the 1968 assassination of Dr. Martin Luther King. Up to 1,400 students slept on the Chapel Quad, food services and housekeeping employees went on strike, and most students boycotted the dining halls in support of the employees.
Media Contact:
Camille Jackson
Communications Specialist
Office of News & Communications