Last fall, I was given one of my toughest challenges yet—to produce a video highlighting the Duke President's strategic plan in about ONE MONTH. The video needed to be done quickly to showcase at pre-scheduled alumni events around the country. I wanted the video to do justice to President Vincent Price's vision. Usually it takes a couple months of work (storyboarding, scouting locations, filming, editing, reviewing) to bring a video of this magnitude to life. Luckily, I work with an incredibly talented creative team. I knew that I would need their help to make this happen and they were more than happy to work together on this major project.
I prioritized the two things I felt were most important. First, finding the best way to showcase President Price immersed in campus. Since fall is such a beautiful time of year at Duke, it felt crucial to place President Price in Duke's natural backdrop. Second, it was also important to showcase President Price interacting with students to symbolize him sharing his vision for the future of Duke with them. Meeting with students is something President Price naturally does all the time and I wanted the opportunity to bring those special moments to life.
I asked my colleague Megan Mendenhall to scout possible locations for the scenes with President Price on West Campus. From spots by Duke's clocktower to the Chapel, Megan narrowed down beautiful 11 spots. After reading the final script for the video, I settled on filming in Few Quad because Duke's first President William Preston Few is referenced numerous times throughout the video. The quad is also tucked away a bit from a lot traffic and noise that occurs on West Campus.
Along with the colorful trees in Few Quad, I liked the natural foot traffic that occurred as students walked from their residential hall to other parts of campus. My vision was for students to continue walking by as President Price spoke on camera. However, I was concerned students would be startled by our large lighting and camera set up and, of course, Duke's President right in the middle of the quad.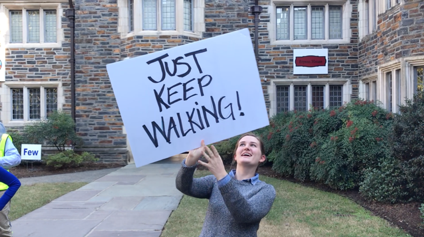 In hopes of keep students moving along, I created a large sign that read "Just Keep Walking" and asked my colleague Caroline Pate to hold it up during the shoot. It worked perfectly. Students kept walking right through the shot in a natural way allowing us to showcase campus life at its best.
For the video's special on campus moment, I also wanted to try out something a little different by creating a dolly-like movement as President Price spoke on camera. After a couple trial runs, the karma grip stabilizer with the go pro did not produce a smooth enough shot.
My colleague Bill Snead and Sam Huntley tested out walking backwards while hand-holding a drone and using the drone gimbal as a steady cam. It worked nicely because there was no noise coming from the drone and it was very smooth. On the day of the shoot, we first captured a traditional shot of the President on camera to make sure we had something usable. Then we captured the drone walking shot. In the end, we used the walking shot because it created the more personalized, dynamic feel.
Since we had a 30-minute window with President Price, we wanted to use the time frame to also capture him with students in Few Quad. Bill Snead, our talented drone pilot, quickly filmed some lovely shots of President Price in natural conversation with three students.
After the outdoor shoot, I got to work editing. But the capture did not end there. Bill captured beautiful campus drone imagery that included movement and campus activity. Megan and Jared Lazarus filmed engaging classroom moments and library studying scenes. Once we got all the footage back in house, my creative director Blyth Morrell and I combed through all the material to pinpoint which shots mapped closely to the five planks in President Price's vision.
In the end, our creative team produced a video I am very proud of and, more importantly, President Price feels good about it. Looking back, I learned some important lessons in the process. A big takeaway includes not getting intimidated by a tight deadline. Having a vision along with an action plan can go a long way. I discovered it's also crucial to realize that you don't have to do everything by yourself. In some cases, it's impossible. I'm fortunate to have a talented team to collaborate with. I'm still in awe of the way everyone came together so quickly and efficiently. Even a task that may have seemed like a small role, such as holding a sign, made a huge difference in the end. As daunting as the timeline may have been at the beginning of the project, I think it pushed us all to be our very best and resulted in something really special.